---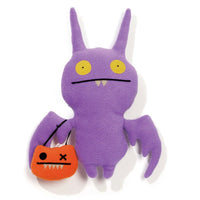 Series: Ugly Doll
Introduction: March 2014
Limited Holiday Edition
12" T x 12" W x 4" D
Polyester Blend, Plush
The Uglys love you, and also candy. Join Batty and Poe as they head out for their first
ever Halloween trick or treat candy run! They are well aware of the implications has on
dental health, but tonight it's party time! We brush tomorrow. Tonight we candy.

Poe is going as the color purple. What? That's right! Purple is the unsung Halloween
color. Everyone shows respect for black and orange, so Poe is here to stand up to the
underdog... for the weak and helpless! Purple! Please help Poe.