---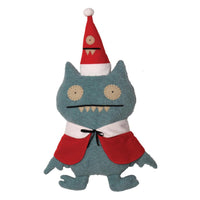 Series: Ugly Doll
Introduction: March 2014
Limited Edition
Plush
3" H x 15" W x 9" L
Ice-Bat is "holiday elf." He may be smaller than you, but you are bigger than him, so that
screams team work time. Ice-Bat needs you to help him make sure this holiday season is a
winter wonderland by the time it's really cold out. Everything he touches turns to ice, yet he warms your heart.

By the way... see the red hat?