---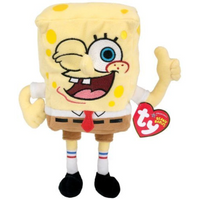 Officially licensed product from Ty's Beanie Babies Collection
Introduction date: 

February 28, 2005




9 inches tall

For ages 3 and up
Surface wash
SWING TAG PHRASE (inside right)
PROFESSION: In the episode titled, "Pizza
Delivery", SpongeBob and Squidward get lost
trying to deliver a pizza !
HOBBIES: When SpongeBob takes
an art class, Squidward tries to
pass off SpongeBob's creation as
his own !
SWING TAG PHRASE (inside left)
SUPER ABSORBENT TRIVIA: The sculpture that
SpongeBob created was actually Michelangelo's David !