---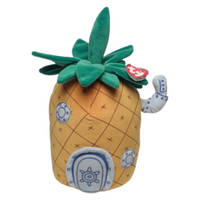 Officially licensed product from Ty's Beanie Buddies Collection
Introduction date:

February 28, 2005




12 inches tall

For ages 3 and up
Surface wash
SWING TAG PHRASE (inside right)
HOMETOWN: Located in beautiful Bikini
Bottom, this spacious two-story fruit bungalow
is the perfect starter home for any sponge !

ON THE WELCOME MAT: In the
episode titled, "Home Sweet
Pineapple," nematodes destroy
SpongeBob's beloved home !
SWING TAG PHRASE (inside left)
SUPER ABSORBENT TRIVIA: When
SpongeBob's home was destroyed he decides he
should move back in with his parents !