---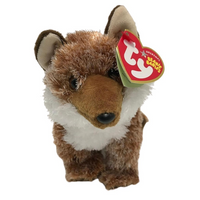 Ty Store & 

World Wildlife Federation (WWF) Exclusive




Introduced: August 2, 2005



6 inches
For ages 3 and up
Surface wash
SWING TAG PHRASE (inside right)
SPECIES: Red Wolf
BIRTHPLACE: North America
SCIENTIFIC NAME: Canus rufus
TIDBIT: Red wolves communicate
by scent marking, vocalizations
(including howling), facial
expressions, and body
postures !

SWING TAG PHRASE (inside left)
FACT: Due to captive breeding
programs, this highly endangered
animal is slowly increasing its
numbers and some have even been
reintroduced into the wild !
Ty is proud to support WWF's efforts to
protect animals and their habitats.

www.worldwildlife.org