---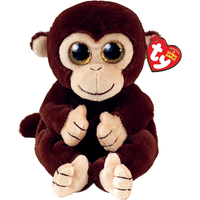 Made with super soft VelveTy fabric
Made with super soft brown fabric
Sparkly gold glitter eyes
A mischevious monkey with great big smile
Uniquely shaped, sitting in an attentive pose
Cheerfully sits still for cute pictures
Includes official Ty Heart with birthday and poem
Surface clean only
Size: 8 inches
My nameis Matteo, and I love monkeying around. I have lots of energy and I am always
up for an adventure! Lets explore the jungle together!
BIRTHDAY February 21

POEM
I'll give you a hug, give me a smile.
Then you and I could talk for awhile.
We'll go for a walk out in the sun.
We'll laugh, joke and have lots of fun.