---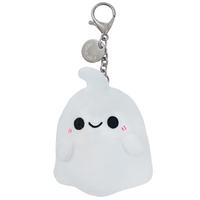 3 squishy inches of spookiness!
All new polyester fiber
Metal clip
Ages 3 and up!
Spooky szn is year round! If someone says otherwise, let them know that the
tiniest ruler of the spooks has declared it is true. This most adorable of
all ghosts has spoken, and you don't wanna argue with a spirit this small.
He could haunt *anything*.