---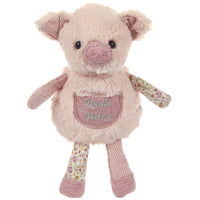 With a pocket for the lost tooth

Fun and unique item with a hand-crafted look that is great for babies & children.

High quality item for your child

What a fun way to make growing up fun

Approximately 9"

Does your daughter love Pigs? Is she about to loose her first tooth? Then this tooth fairy doll would be perfect for your girl. Prissy the Pig has a secret pocket to keep the lost tooth and the tooth fairy's present safe! Celebration! A gift that celebrates "loosing your first tooth" milestone.